Thu, 02 Nov 2023 - 16:27
Viewed 32 times
Centrelink officials recalled to Senate estimates after failing to answer 'basic questions' - The Guardian
Request for welfare agency to return on 7 November follows 'unacceptable' appearance at October hearing about growing call and payment wait times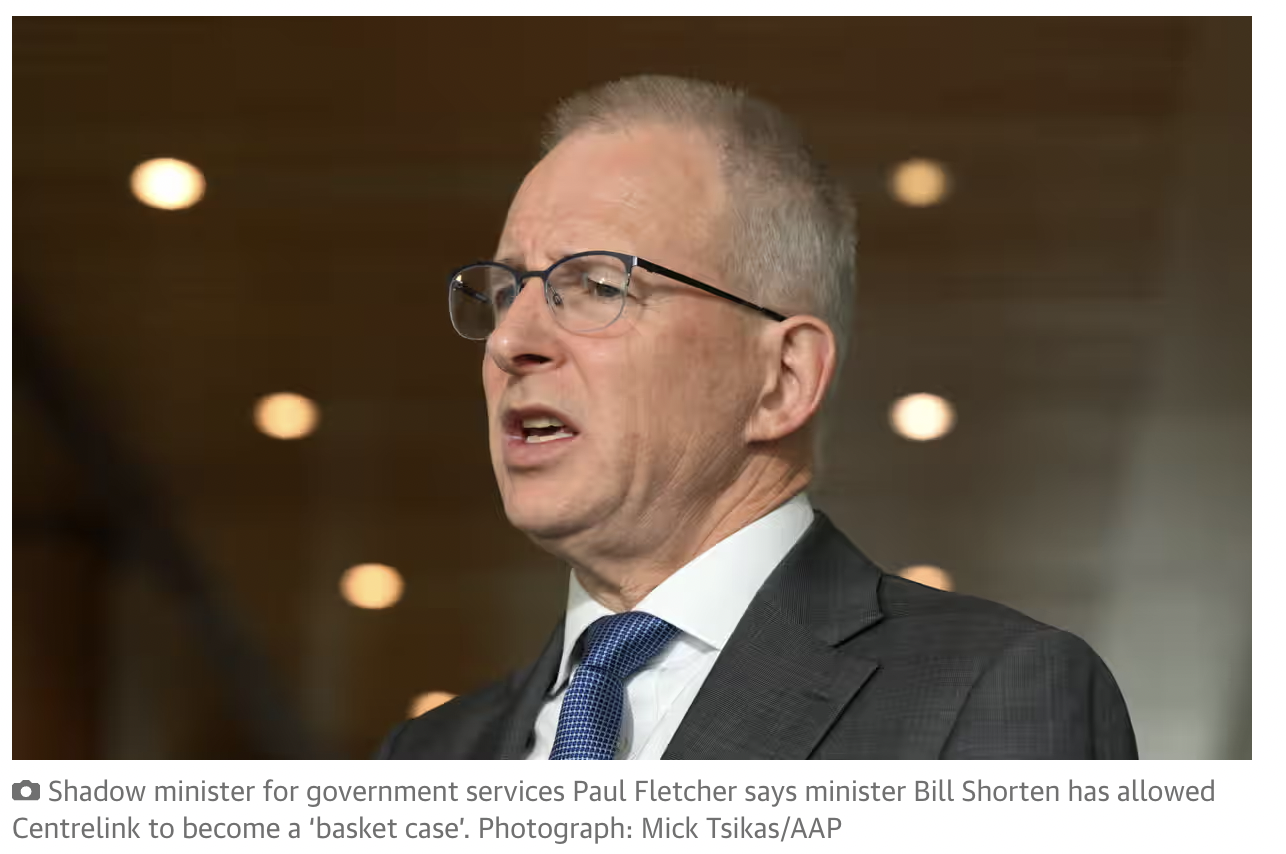 Centrelink officials will be forced to return to a Senate estimates grilling after the federal government agency failed to answer "basic questions" about growing call and payment wait times.
The Greens and the opposition announced on Thursday they had teamed up to recall Services Australia, the agency who delivers the Centrelink program, after its "unacceptable" appearance at a recent estimates hearing.
The shadow ministers Paul Fletcher and Kerrynne Liddle joined with Liberal backbencher Maria Kovacic and Greens senator Janet Rice to force officials back to the witness table on Tuesday 7 November.
The central welfare agency had revealed in October it had issued 2.8m busy messages to callers in only two months, and answered less than a quarter of calls received over July and August 2023 – a figure down from 35% over the 2022-23 financial year.
The shadow government services minister, Paul Fletcher, pointed the blame at his counterpart, Bill Shorten, who he said had allowed Centrelink to become a "basket case with massive blowouts in wait times for payments and calls".
"Bill Shorten has been eager to minimise scrutiny of the deteriorating conditions at the agency because it exposes the sad reality that he just does not care about customer service," Fletcher said on Thursday.
Prior to the agency's appearance in October, senators wrote to the chief executive, Chris Birrer, to request detailed telephony data and in-depth breakdowns of social security payments.
The senators said they were dismayed that officials were "unable or unwilling" to answer questions and provide the information on the day.
"As a new senator, it was my first time asking questions to officials and government ministers – I was astounded and very disappointed by the stonewalling and obfuscation," Kovacic, who joined the upper house in May, said.
"Recalling Services Australia officials has not been done lightly, but we must hold the government to account and ensure there is transparency on behalf of the Australian people as they struggle with a cost of living crisis."
Of the 41m calls to Centrelink made across the 2022-2023 financial year, just over 9m, or 22%, received a "congestion message", according to the agency's estimates testimony. Almost 13m, or 31%, were answered, and 4m were terminated by the person calling.
The agency received 8m calls in July and August this year, with 2.8m calls receiving a congestion message. The data showed 1.8m calls were answered, while 800,000 were terminated by the customer.
Under questioning from the Greens senator Janet Rice, Birrer admitted the current situation "did not meet our KPIs".
"We would like to have better customer service performance in a number of measures and we've discussed some this morning," he told Senate estimates.
"It doesn't meet our KPIs that we set for ourselves. We're working to be as efficient and as disciplined as we can within the resources that we have."
Staff at Centrelink have been bargaining with the federal government for improved pay and workplace conditions.
Workers walked off the job for 24 hours in early October after rejecting an offer for a 11.2% pay increase over three years.
Rice has previously stood with striking staff, saying they are being used as a "scapegoat for the failings of the government" and describing them as "being overworked and unpaid".
Shorten's office was contacted for a response.
Author: Sarah Basford Canales and Cait Kelly
This article appeared in the Guardian on 2 November 2023