Fri, 11 Dec 2020 - 16:34
Viewed 78 times
ACCC Reports find large falls in telecommunications prices
A major report just released by the ACCC gives further confirmation of the downward trend in telecommunications prices.
The ACCC's Communications Market Report 2019-20, and previous Reports in the series, show there have been significant falls in telecommunications prices over the past five years.  
The Reports find the retail prices for NBN broadband products have fallen by 28% over 5 years, using the hedonic or 'quality adjusted' method for measuring price changes. This is the same method used by the Australian Bureau of Statistics (ABS) to measure price changes when calculating the CPI.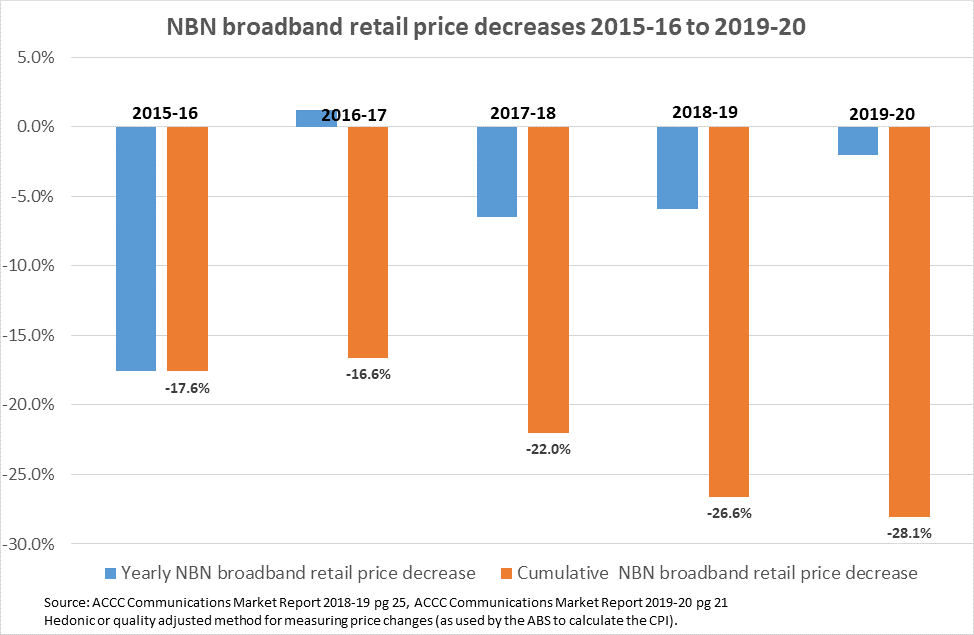 For mobile services, the story is even better. The 2019-20 Report finds mobile voice prices have on average fallen by 52% over the last 4 years and mobile broadband prices have fallen by 56% over the same period.
The findings from the ACCC Reports are consistent with the CPI data released by the ABS in October 2020 which found telecommunications prices have fallen by 33% since the Liberal National Government came to power in September 2013.
Two independent sources of data provide one clear finding: thanks to the policies of our Liberal National Government, telecommunications is becoming even more affordable for Australians.
Policies helping to reduce telecommunications prices include:
Delivering the NBN rollout (and turning around the failing project we inherited from Labor in 2013) – we've connected over 7.8 million premises in seven years, with connections currently running at around 20,000 per week;

Using the HFC network to supply 2.5 million premises with fast broadband — currently up to 100 megabits per second (mbps), with an upgrade recently announced that will deliver speeds of up to 1000 mbps;

Investing $380 million in the mobile black spot program;

Investing $83 million in the regional connectivity program;

Allocating more radio frequency spectrum for mobile communications; and

Continuing to reduce the regulatory burden on the telecommunications industry.
These policies of the Liberal National Government are promoting vigorous competition, investment and innovation, resulting in lower priced, better quality and more innovative telecommunications services for consumers.